Fishing in Velfjord, Norway
The resort is mainly based on fishing in the fjord. However, with hundreds of lakes in the area fresh water fishing is well worth trying. There are also acceptable alternatives for salmon fishing.
Velfjorden with 8 sidefjords
The Velfjord is shaped much in the form of a large hand with the fingers represented by smaller branches of 2 to 8 km in depth. The main fjord is 20 km deep and 2 to 4 km wide. There are depths of up to 500 meters.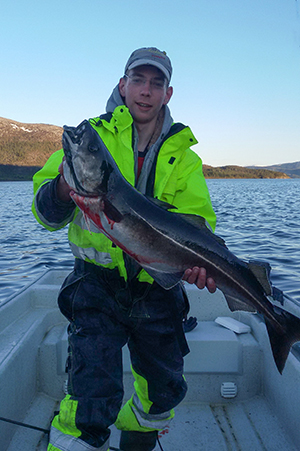 Fishing is possible in pretty much any weather condition---there is always a sheltered corner somewhere in one of the branches. At night the whole fjord tends to be rather calm. Night fishing is highly recommended as we have 24 hour light from mid-May to the end of July.
Our resort lies in the innermost part of the Heggfjord, a 4 km long branch. You may fish pretty much from your front porch, although an excursion on the fjord will soon prove far more rewarding.
A peculiar geology has made the bottom of the fjord very rough, and therefore not fit for large fishing boats with their large nets. Thus there are only a couple of small professional fishing boats in the fjord.
There is a two to three meter difference between high and low tide. Unlike most southern norwegian fjords, the mouth has no shallow threshold. Combined with substantial difference between high and low tide, this provides a huge water exchange two times a day. Hence large amounts of oxygen and nutrition far into the smallest sub-fjords. The production capacity is thus substantially higher than in fjords in the south of Norway ensuring plenty of fish.
With such a solid base there is no danger of overfishing---at least not by regular leisure fishing. And as already mentioned, the fjord does not attract larger vessels due to the rough bottom conditions.
Some of our guests catch truly large amounts of fish. This success is not straitghtforward, however. Fish do not rest peacefully in a particular branch of the fjord, and the question "where's the fish" cannot easily be answered. Time, wind and currents are important factors, as well as bottom conditions and the preferred eating habits of the particular species.
For example, the large fish might have gorged on a shoal of herring---leaving our bait rather anonymous. Or, the shoal might even be so thick that the lure cannot sink through to the larger cod or coalfish feeding beneath.
Sometimes everything seems right, and still there is no catch. Then, without warning, they bite like crazy.
The main species are cod, coalfish and redfish. Other species like haddock, herring, wolffish, whiting, mackerel, halibut and more are also regularly caught here.